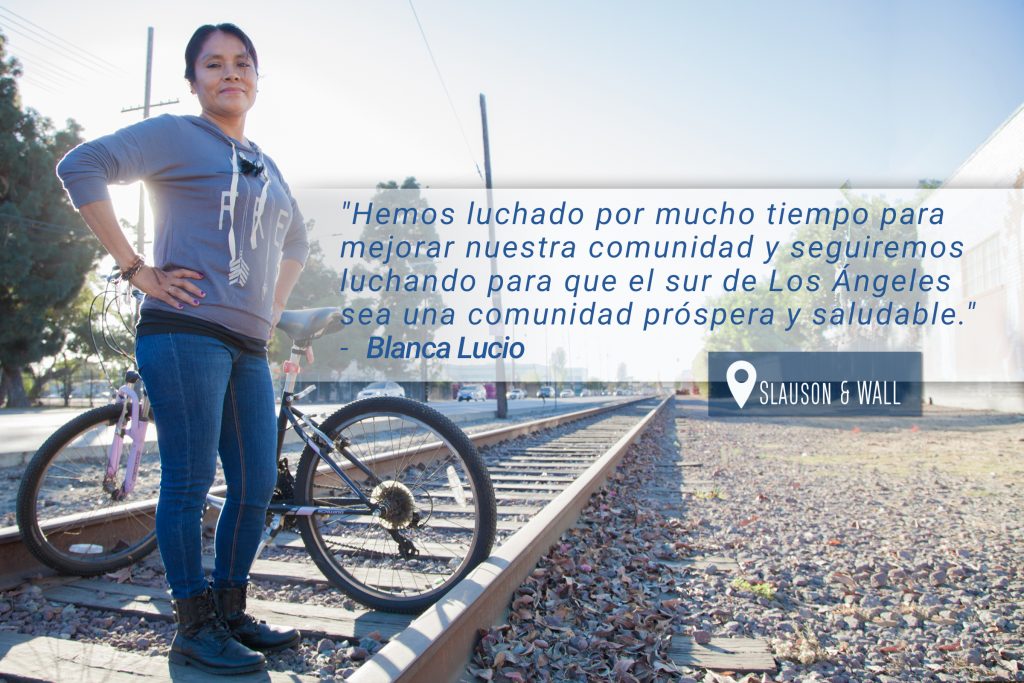 The communities that make up the Slauson Corridor define resilience. Residents have held down their neighborhoods through decades of disinvestment, criminalization and racist land use planning─responding by organizing in churches, schools and community organizations to demand a more just and healthy South LA.
A legacy of racist land use decisions has brought polluters in and has kept health-promoting land uses out, disproprotionately burdening low-income communities of color.  This has meant that communities along the Corridor contest a lack of green space and an abundance of concrete, which make neighborhoods more vulnerable to extreme heat than other parts of the city. It has also meant that residents face air pollution from nearby industries and heavy traffic corridors. These environmental conditions have led to disproportionately high rates of asthma, diabetes, and heart disease among residents.  In recent years, the impacts of climate change have intensified, impacting the highly vulnerable neighborhoods along the Corridor first and worst.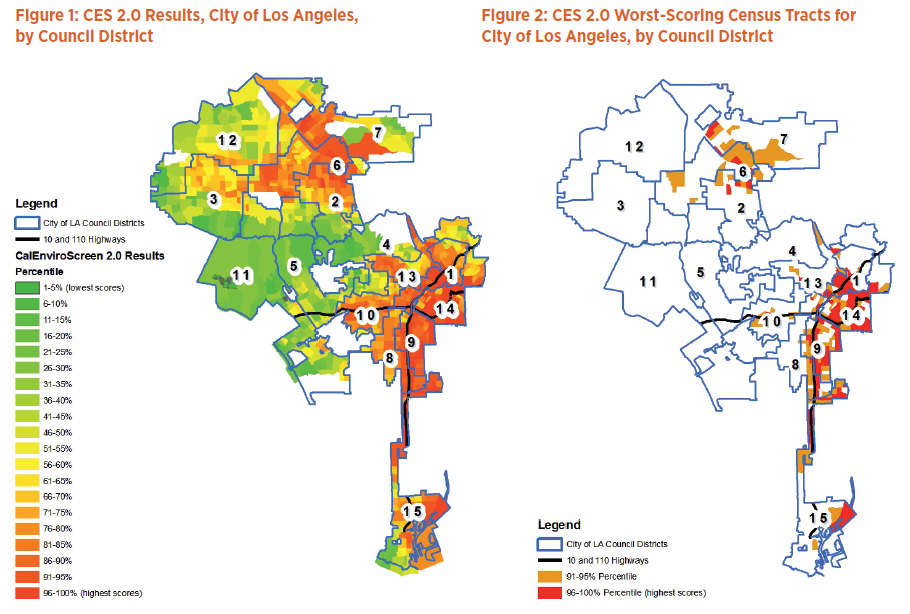 CalEnviroScreen 2.0 Results: South LA's Slauson Corridor ranks among the most environmentally and economically disadvantaged areas across the state
Additionally, communities in the Corridor are facing a different kind of pressure from significant transportation and private investment coming into the area for the first time in decades. On the western side of the Corridor, Metro has begun construction of the Crenshaw/LAX line and is planning to construct a bike and walking path along Slauson as part of its Rail to River Corridor Project. At the same time, non-affordable apartments have been planned or are being constructed for the area and community members are seeing single family homes in their neighborhood being flipped, pointing to the need for tenant protections and a strong community voice in development and land use decisions.
As the impacts of climate change only intensify in South LA and as new investment continues to flow in, it is imperative to develop community-created resilience strategies to guard against these threats and build towards a shared vision of an environmentally just and economically equitable South LA.
The Plan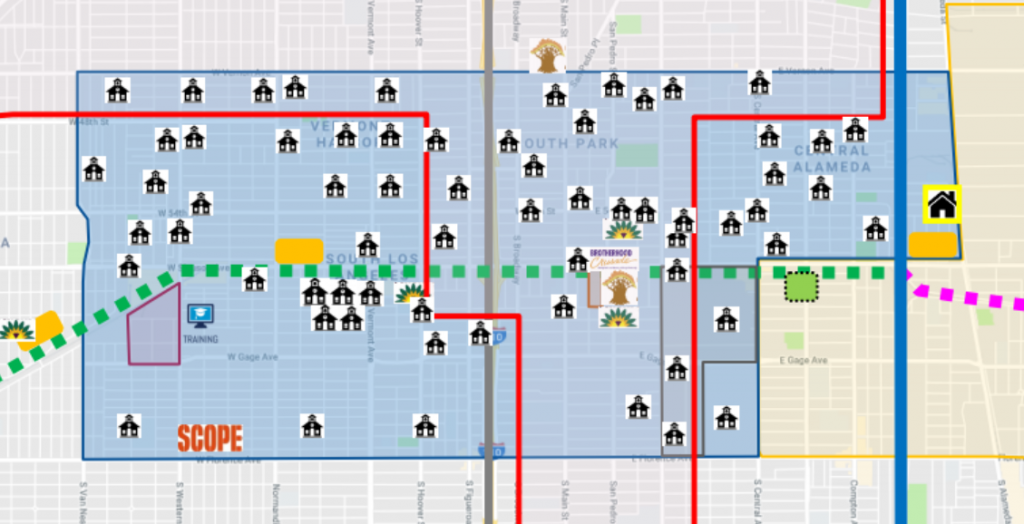 The Slauson Corridor is home to the office of SCOPE, T.R.U.S.T. South LA, Brotherhood Crusade, and over 50 local public schools.
Over the next year, a coalition composed of the Los Angeles Equity Alliance which includes SCOPE, Los Angeles Neighborhood Land Trust, SAJE,  and TRUST South LA, as well as SLATE-Z, Brotherhood Crusade, the Department of City Planning, and TreePeople, will collaborate with residents and schools in the area to develop solutions for addressing climate change impacts and displacement pressures. Addressing climate change and displacement requires a shift from a traditional planning approach that often views community engagement as a box to check. Solutions from frontlines communities must come to the forefront which is why the South LA Climate Commons Plan will be developed using participatory planning and popular education methods. In order to address the various contributors to and impacts of climate change, the Plan will bring forth intersectional strategies around parks, housing, displacement avoidance, jobs, air quality, transportation, and community health for the eight square mile stretch of the Slauson Corridor. Ultimately, we aim to work with residents to grow the "commons"ーpublic social and capital infrastructure that meets residents' needs, mitigates climate change and development impacts, and most importantly allows longtime community members of the Corridor to thrive.
Planning for the South LA Climate Commons will officially begin in July 2019. To join a resident work group and stay informed about upcoming events, sign up here.