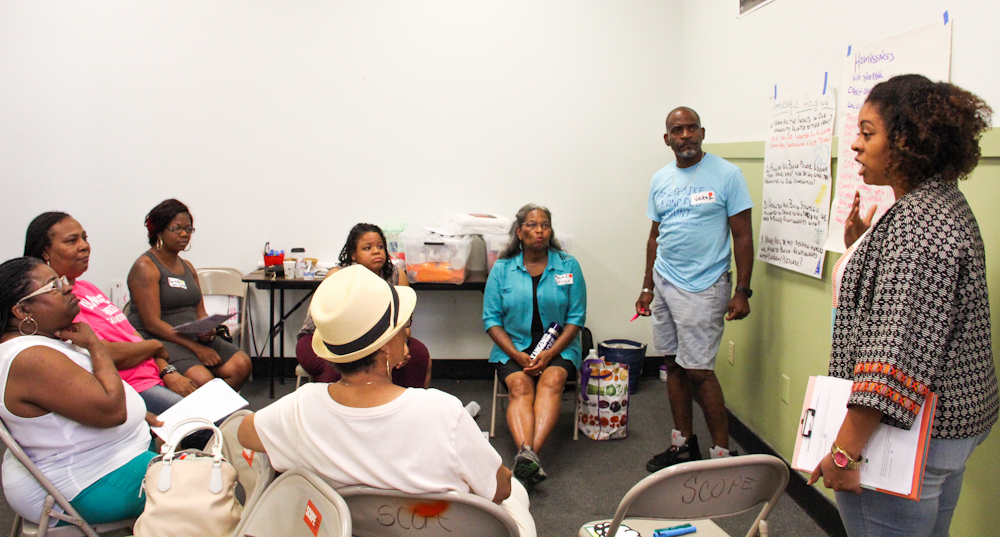 Enacting systemic change takes more than any one organization–it takes a movement. This means that even while individual organizations work with their particular constituents towards unique missions and goals, a concerted effort must be made across organizations to shape and advance a broader, common agenda. This is the work of movement building.
Foundational to SCOPE's work in, for, and with South L.A. is the belief that change happens when organizations are driven by a spirit of collaboration, sharing and co-creating analyses, visions, strategies, tactics. That's why SCOPE facilitates trainings on the frameworks, tools, and skills we've found to be helpful to organizing and creating grassroots power. All this to cultivate the collective capacity of progressive organizations as we continue together to build a social justice movement.
For training requests, please contact us at 323-789-7920.
Past Clients Include:
Organizations
Advancement Project
UCLA Labor Center
UCLA Labor Center – Dream Summer
Asian Americans Advancing Justice
Vision y Compromiso
Promesa Boyle Heights
Los Angeles Neighborhood Land Trust
Starting Over, Inc. Transitional Housing
St. John's Well Child and Family Center
KidWorks OC
Legislative Staff
SCOPE has facilitated strategy development for progressive policy with federal and local legislators and their staff
Class Sessions at Educational Institutions
University of Southern California Master of Public Health Program
Loyola Marymount University Bellarmine College of Liberal Arts
Alliances & Networks
Los Angeles Coalition Against Wage Theft
Michigan Oral Health Coalition
Orange County Asian and Pacific Islander Community Alliance (OCAPICA)
Latino Coalition for Healthy California
American Muslim Civic Leadership Conference
One Voice Louisiana
Progressive Jewish Alliance
Unions
California Faculty Association
United Teachers Los Angeles
Foundations
California Community Foundation
DentaQuest Foundation
First 5 LA
Groundswell Fund
The California Endowment – Building Healthy Communities
Hill-Snowdon Foundation
Women's Foundation of California