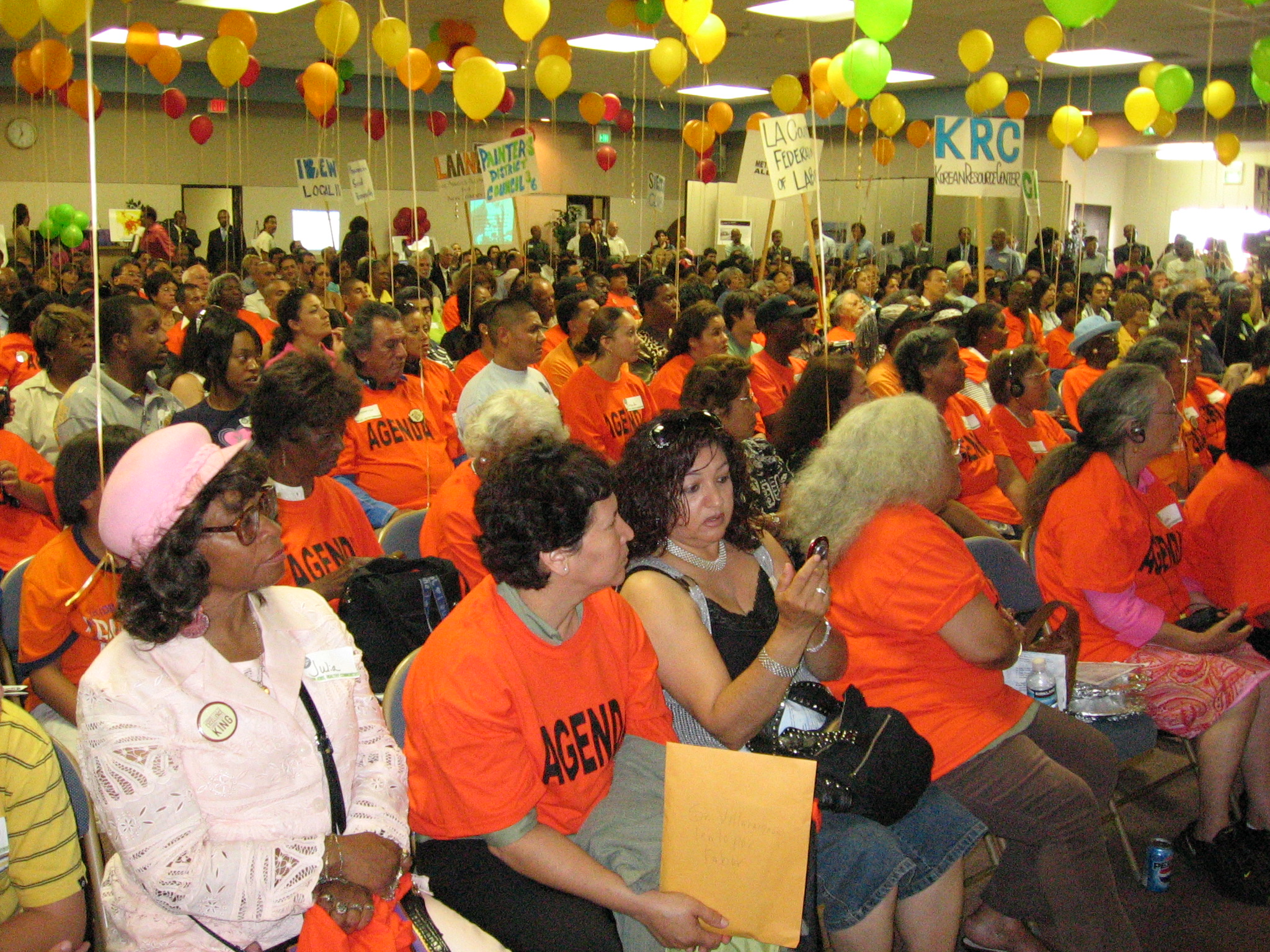 Twenty five years ago, Los Angeles erupted into violence hours after police officers were acquitted of brutally beating Rodney King, an event that was captured on video and spread across media outlets. The image of the assault, as well as a city on fire, caught the world's attention. But the tragic moment didn't tell the world about the decades that preceded it—decades of disinvestment and neglect—which left South LA's families powerless, without a voice in government or much hope for the future.
That story, of boarded up businesses and a dismantled safety net, had yet to be told. And in 1993, a small group of local activists decided to tell it—and to reclaim it in order to overcome systemic economic injustice in the region and to restore the promise of South LA's long-term health and success.
AGENDA's founders wanted those locked out of decision-making to be at the head of the table.
Action for Grassroots Empowerment and Neighborhood Development Alternatives (AGENDA) emerged as a vehicle for rethinking the very concept of community organizing from the ground up. With a history of solving problems in South LA—from broken streetlights to failing schools—AGENDA's founders were guided by the following principles:
The terms of the debate around social justice had to be reframed, with those locked out of the decision-making now sitting at the head of the table. And the project for change had to appeal to a wide range of people with different single-issue agendas so that the community could pool its power.
As AGENDA began to partner with other community groups, it continually broadened, first into the Los Angeles Metropolitan Alliance, which made room for neighboring allies eager to support rebuilding in South LA—and eventually SCOPE. With an even wider regional focus, SCOPE aimed to attack the root causes of injustice by creating opportunities for low-income people of color to act as leaders who push for real change. Twenty years later, that vision is still reflected in our work.
Membership and leadership development programs give residents of South LA the skills to become politically active agents who shape decision-making.
Strategic alliances with academia, labor unions, and other community organizations allow us to leverage power and take advantage of what we have in common.
Groundbreaking campaigns promote proactive agendas for workforce development through policy recommendations that come from the community.
Voter engagement strategies create an informed constituency who participate in local elections and understand their civic rights and responsibilities.
Through this comprehensive approach to building power and strengthening the presence of working people in the political process, SCOPE has energized activists, city officials, neighbors, and students to be proactive, not reactive, and forward thinking, with one eye always focused on the causes of unemployment and poverty so that we can move toward equality, integrity, and a quality of life in South LA its residents deserve.