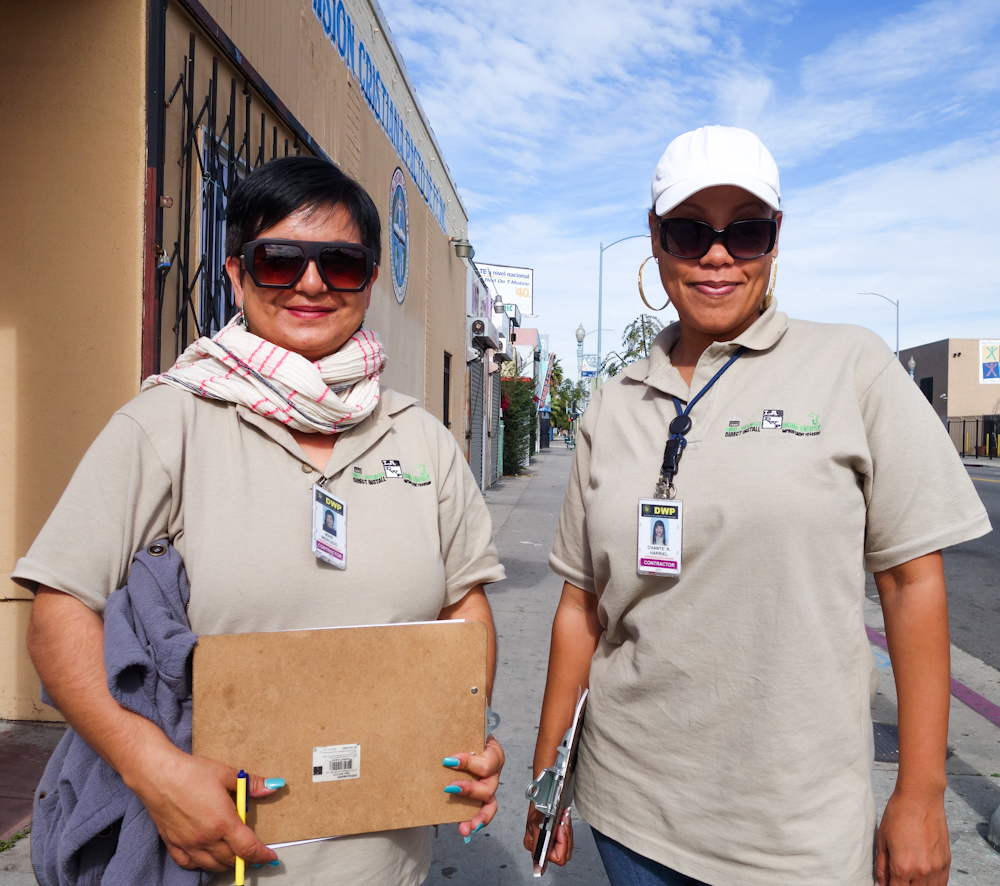 For more than 10 years SCOPE has worked with community based organizations, labor unions, and environmental groups to ensure that low-income communities of color are at the forefront of the green jobs sector. From creating an ordinance to retrofit the city's aging infrastructure that employed South LA workers with the LA Apollo Alliance to working with Repower LA to support the Los Angeles Department of Water and Power and IBEW Local 18's entry-level Utility Pre-Craft Trainee program, SCOPE has a history of winning career pipelines for low-income communities that make public buildings, homes and businesses more energy and water efficient.
South LA wants jobs in the climate industry, but not just any job. We need jobs that pay families supporting wages, provide benefits like healthcare and sick days, and have dedicated training pipelines for people to earn while they learn and end up with a career path.
Neighborhoods like South LA are the forefront of pollution and toxic dumping, but the last in line in getting help to clean up or finding solutions to these chronic issues. By engaging our membership and the South LA community in discussions on what it would mean to have access to healthy food, jobs that are based in the green sector, and the different forms of pollution affecting us, we can find community oriented solutions. #SustainSouthLA is an initiative to cultivate climate consciousness within community residents to find and share solutions and resources that benefit everyone.
Through the various resources made available on this page, you will find information on free services provided by the Los Angeles Department of Water and Power for your home or business. These resources are meant to not only help you save money, but to reduce the amount of water and energy used everyday. To learn more, visit the #SustainSouthLA page.
Los Angeles Equity Alliance (LAEA)
As federal and state resources become earmarked for Low Income Communities such as South LA, it is imperative for our communities to strategize and advocate how these resources make their way locally. We must ask ourselves does investment result in job creation or displacement. The Los Angeles Equity Alliance is made up community-based organizations with membership bases in South LA and throughout Los Angeles and which focus on a range of issues including housing, transportation, economic development, land use, and environmental racism. These organizations are Strategic Concepts in Organizing and Policy Education (SCOPE), California Environmental Justice Alliance (CEJA), Physicians for Social Responsibility- Los Angeles, Los Angeles Neighborhood Land Trust, LA Black Workers Center, Strategic Actions for a Just Economy (SAJE), and TRUST South LA.
LAEA advocates for equitable investment of resources that will:
Build power for South LA residents.
Have transparency and accountability in decision- making and implementation.
Fund community and people-oriented projects that will develop local jobs and ensure no displacement of local community.
Ensure that economic and racial justice principles leads to communities such as South LA are prioritized for investment.
Promote equitable investment based on metrics such disparaging health and socioeconomic outcomes resulting from previous discriminatory policy or development.
City Jobs Campaign
In Fall 2014 Fix LA, a coalition of community based organization and city labor unions negotiated a contract with Mayor Eric Garcetti ensuring that 3,000 jobs lost during the Great Recession of 2007 would be fully funded and employed utilizing a Targeted Local Hiring practice by the year 2018. SCOPE has taken lead in participating in the Targeted Local Hire Workgroup convened by the City Personnel Department as well as the Economic and Workforce Development Department. Working alongside our Fix LA allies, SCOPE has been able to help shape the development of strong Local Hiring practices as well as holding the City accountable to its timeline.
Fix LA continue to advocate for expansion of the local hire program through initiatives such as:
Vacant Lot Abatement Program
City Revenue Commission
Following the City Budget process
---
HIGHLIGHTS OF OUR WORK ON CLIMATE JOBS
Our research coordinator, Laura Muraida, recaps SCOPE members testifying in July at the California Air Resources Board on the needs for jobs and investment in South L.A.
Our President & CEO, Gloria Walton, makes the case for preparing the most vulnerable communities from the affects of climate change on the 10th anniversary of Hurricane Katrina.
Long time SCOPE member, Maria Dubon, was featured on Univision for her work with our  Small Business Direct Install Program team, reaching out to small businesses and churches in South L.A.
Our President & CEO, Gloria Walton, breaks down why Los Angeles is the country's fulcrum for change.
Disinvestment in South Los Angeles has been an on going issue for decades. Read how our continued work to bring green jobs to the community will create paths to careers for South L.A. residents.
Read how our Small Business Direct Install Program team members reach out to small businesses and churches to help them get free energy saving services from the Los Angeles Department of Water and Power