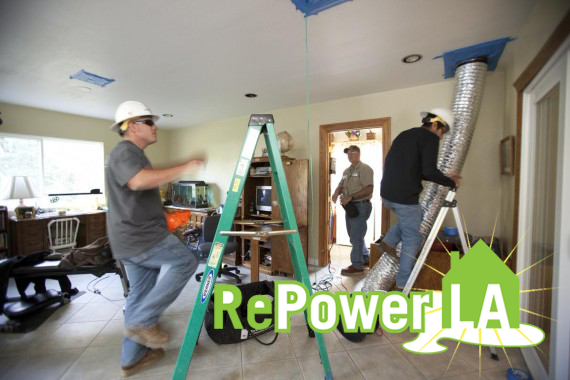 As utilities and transportation agencies work to meet California's environmental goals, the skills needed for jobs in the construction, utility and transportation industries are changing. In Los Angeles, we have a unique opportunity to work with our municipally-owned utility, the Los Angeles Department of Water and Power, to ensure high-quality, accessible training is a best practice in the growing energy efficiency and clean energy industries.
Since 2011, IBEW Local 18, SCOPE and the Los Angeles Alliance for a New Economy (LAANE), along with other members of the RePower LA Coalition, have worked to ensure that the Utility Pre-Craft Training Program (UPCT) creates an accessible pathway to green, union jobs at the Los Angeles Department of Water and Power (LADWP). The UPCT program provides paid, full time pre-apprenticeship training for entry-level workers and ultimately places trainees in a permanent position at LADWP. Trainees receive mentorship and preparation for the required civil service examinations, while developing hard skills through weatherizing homes and small businesses. This program, which provides benefits as well as union membership to pre-apprentices, has served as a model for green workforce development programs throughout the country.
SCOPE is working with the RePower LA Coalition to increase representation from South LA in the UPCT Program and continues to explore opportunities to grow high-road clean energy, clean transportation and energy efficiency jobs with partners from across the state.