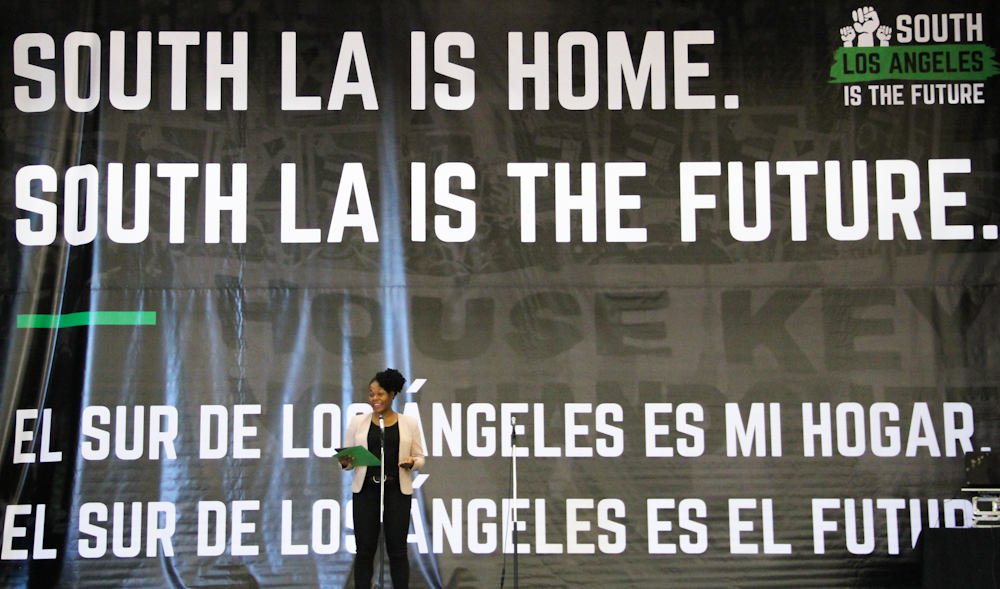 As a native of Mississippi, I often think of the famous words of Ms. Fannie Lou Hamer: "I am sick and tired of being sick and tired."
Twenty-five years ago, a predominantly white jury acquitted the California Highway Patrol officers involved in the brutal beating of Rodney King─an act of police violence that was caught on video and broadcast on national television. Thirteen days after King's beating, fifteen-year-old Latasha Harlins was shot and killed in South Central Los Angeles by Korean liquor store owner, Soon Ja Du, who had accused the young woman of stealing a bottle of orange juice. The store owner was sentenced to five years probation, community service and a fine.
Within hours of the verdict in Rodney King's case, Los Angeles erupted into an episode of civil unrest that would force the American public into an uncomfortable conversation about race, justice, and progress. The LA Uprising, as it is often called, was a literal manifestation of Ms. Hamer's words: A community sick of injustice, and tired of waiting for change. I often think about the change that Rodney King and Latasha Harlins (may they rest in peace) were waiting for.
This year on April 29, the 25th anniversary of LA Uprising, which also happens to be the 100th day of the Trump Administration, hundreds of thousands of people from around the country will gather in Washington, DC for the People's Climate March. Black, brown, indigenous, low-income, immigrant and rural people─those who are suffering the first and worst effects of climate change─will lift their voices and their solutions to the peril our planet faces. The significance and confluence of this movement moment and its place along the longer arc of justice must not escape us. I say this because the '92 LA Uprising, a manifestation of the unheard and the hopeless, provides us with important lessons in the political moment we face today where our values, our hard-fought legal protections, and our very voice and beings are under threat.
In the spring of 1992 the imagery of King's assault, as well as the aftermath of a city on fire, caught the world's attention. But the tragic moment didn't tell the world about the decades that preceded it—decades of disinvestment and neglect—which left South LA's families powerless, without a voice in government or much hope for the future. The story of environmental racism, joblessness, a dismantled safety net, and punitive policies that criminalized entire communities had yet to be told.
But from the ashes of the uprising, rose a new generation of grassroots leadership in Los Angeles focused on building the power needed to tell our own story and transform our future. The LA Uprising became a turning point in our movement for social change—not unlike the moment we face today.
In post-Uprising Los Angeles, grassroots leaders, community-based organizations, progressive elected officials of color and labor united to build Black and Latino alliances, community-labor alliances, and multi-sector strategies to build the power needed to address systemic issues facing communities like South LA. In 1993, the organization that developed my leadership and that I am now proud to lead today, Strategic Concepts in Organizing & Policy Education (SCOPE) was formed. As Los Angeles started to rebuild after the civil unrest, the leaders of SCOPE, in partnership with many other community leaders and newly formed community-based organizations, fought back against the corporate agenda that sought to criminalize and push out communities of color, and rebuild South Los Angeles in a different image, for someone else.
The victories we see today in Los Angeles and in California—including community-labor job training and placement models, criminal justice and sentencing reforms that give people a second chance, and equitable climate policies that invest in our most vulnerable communities—are a direct result of the collective organizing power, leadership development, and civic engagement capacity that was built when progressive leadership came together across issue area to resist regressive, punitive policies targeting low-income communities of color and to re-imagine an alternative future.
Have we accomplished everything we sought to? No. Twenty-five years later, South Central Los Angeles, which was once the epicenter of civil unrest and the face of the failures of racist tough on crime policies, still faces chronic joblessness—an economic reality compounded by some of the highest cumulative environmental burdens across the state of California. Communities like South LA—Black, Latinx, LGBTQ, immigrant, poor and working-class families—still live at the intersection of polluting industries, chronic disinvestment, and poverty wages. Our folks are impacted first and worst by climate change, immigration raids, budget cuts, and tough on crime policies. Creating systemic change that uproots entrenched power is never easy or fast, but it starts with a vision and a voice calling for something better.
This year, April 29 serves as a personal reminder about the importance of all communities that have a real stake in building a future that is rooted in economic, racial, social, and yes, climate justice; A stake in the new economy that cultivates health, wellness and opportunity for all workers and future generations; A stake in rebuilding a strong public sector that ensures equitable investment and protection for the most vulnerable. This is what the People's Climate March means to me and the people I work with in South LA. As we now stand on the precipice of a stripped away safety net, dwindling environmental and climate protections, attacks on immigrants, and many other significant threats, April 29 represents a call to build broader configurations of power that enable our communities to become architects of policy and change.
In many ways, the battles of yesterday are the battles of today for low-income communities of color in this country—fighting economic injustice, institutionalized racism, and the lack of health and opportunity in our neighborhoods. However, in this current political moment, we must look to the important lessons learned in some of our most difficult moments in order to build a bolder intersectional movement for justice that paves the way for real wins.
Just as the decades of oppression and neglect exploded in a pivotal moment on April 29, 1992, we are now at a flashpoint that will grow and build a new cadre of leaders. On April 29, 2017, from South Los Angeles to Washington, D.C., we must come together in service of advancing our collective power, acknowledging that as true justice-seekers we too are sick and tired of being sick and tired.
This post was originally published on the Huffington Post.