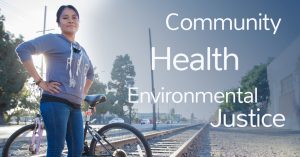 South LA is home to a community of resilient Black, Latino, and immigrant families who face some of the worst economic and environmental conditions in the state. Nearly one in ten South LA residents live within 500 feet of a truck route, eight percent live within 500 feet of a manufacturing facility, and the community has some of the highest asthma emergency room visit and hospitalization rates in the county. A history of segregation and environmental racism have created these conditions and chronic disinvestment has perpetuated them. This past year, SCOPE, T.R.U.S.T. South LA, Brotherhood Crusade, Strategic Actions for a Just Economy (SAJE), Los Angeles Neighborhood Land Trust, Council District 8, Council District 9, and Metro, set out to transform these conditions.
Recognizing that climate change is exacerbating existing inequities in South LA, we submitted a proposal to bring $35 million in climate investments to South LA through the Transformative Climate Communities (TCC) Program, a statewide climate resiliency program that South LA community members shaped. Our proposal would add much needed green space and create safe pedestrian and bike paths along a 5.6 mile stretch of Slauson Ave, currently the site of an abandoned railroad and one of the most dangerous corridors for pedestrians and bike riders in South LA. Through increased tree canopy and improved access to public transportation, the proposal would reduce car emissions and improve air quality along the high traffic corridor. The South LA proposal would also create intersectional programming around family health, mobility, and environmental justice, targeted at residents, commuters, and schools along the Corridor.
We understand that all too often, investment precedes displacement in communities of color, so our proposal contains key anti-displacement measures, comprehensive community outreach, and resident decision-making structures, to ensure that existing communities can benefit from this investment and can be in South LA to stay.
See why residents are fighting for South LA to be awarded this funding below and read about how they fought to shape the TCC program's guidelines to reflect the needs of low-income communities of color living at the frontlines of climate change.